How to Get Started with P2P Audience Sharing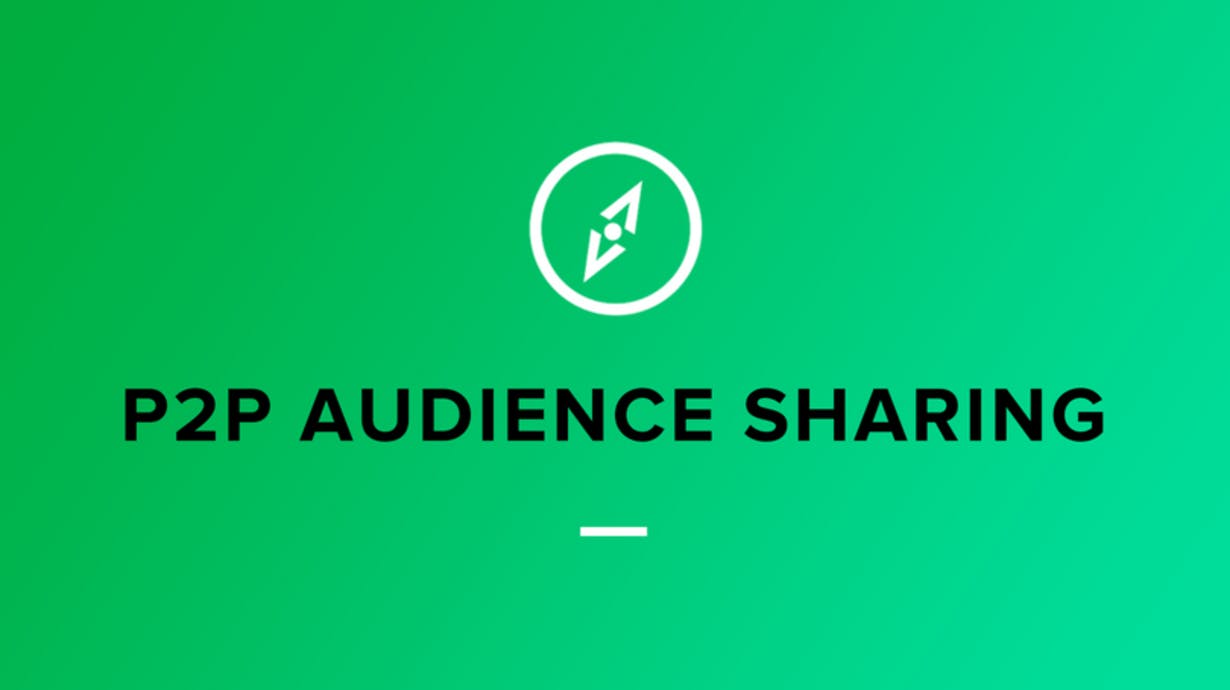 Second-party data (aka another company's first-party data) presents a great opportunity for forward-thinking brands to gain a competitive advantage. To understand how, think of a trusted brand partner you know allowing you to target an exclusive list of their customers that bought a certain product, or subscribed to a service, that makes them a good match for your brand.
But figuring out the details, like who to partner with and how to securely share data, can prevent brands from unlocking the value of second-party data. Below we've outline 5 steps to help you incorporate second-party data into your everyday acquisition, retention and monetization strategies to improve marketing outcomes.
Throughout, we'll reference a travel app named Eva Air and a media company named Acme Media to provide specific examples.
Step 1: Define Your Goals
The first step is to answer the question "What do I want to achieve?" While answers to this question differ based on a company's individual business goals, the most common use cases for applying second-party data are to:
Acquire New Quality Users –

First-party data is king for learning about your existing customers and personalizing experiences to convert them to loyal users. Second-party data is most useful for expanding your reach among your target audiences.

Improve Customer Experiences

– By enriching you first-party data with second, and even third-party data, you can learn more about your customers buying habits and preferences to create personalized experiences for them.
In the case of Eva Air, let's say the goal is to increase their brand presence on the East Coast, and acquire new quality users in the NY area, who will use the app to book flights from NY airports to multiple destinations.
Step 2: Determine What Data You Need
The best way to find the optimal data source and type of data needed is by listening to your existing customers. By understanding the common behaviors and attributes of your existing customers, you can use that information to find more users like them.
mParticle offers a few ways to help you determine what data you need.
First, we offer a third-party data report that compares your customer data to that of third-party data providers, such as Datalogix, to

tell you how similar a specific segment is to your user base.

Second, we connect you customer data to analytics and data visualization tools, such as Looker and Google Analytics, to perform further analysis and uncover common trends.
For example, using Google Analytics, your marketing analysts discover 70% of Eva Air's most loyal customers in NY subscribe to Acme Media's daily email newsletter. The logical next step would be to team up with Acme Media to create and deliver targeted messages to those newsletter subscribers.
Step 3: Find the Data You Need
Now that you've discovered what types of second party data you are looking for, it's time to source it. There are a few ways to find it:
Use an Audience Sharing Marketplace, such as OwnerIQ. These marketplaces contain pools of data sourced from other brands looking to share and monetize their data.

The other option is to engage a new brand partner directly and form a partnership to gain access to exclusive data. If the purpose of using second-party data is focused around gaining a competitive advantage, this is probably a better option, as the data will not be widely available to other brands.
In the case of Eva Air, they've decided to team up with Acme Media and have engaged their respective business development and marketing teams who have agreed to share a user list that  Eva Air will target with paid ads.
Step 4: Share
After discovering the right data, and both parties agreeing on what is to be shared, the hard work of actually sharing the data begins.
Since user lists can contain sensitive customer info, many companies require a secure environment that's been properly vetted and approved by both parties. Vetting a new vendor can take months, not to mention the technical resources required to enable this new vendor.
mParticle provides a better solution with its transparent and scalable P2P Audience Sharing.
Data owners can build an audience for sharing by using our Audience Builder. Once data owners have opted to share data, the receiving brand simply confirms its acceptance and, voila, what once was one brand's first party data transforms into another brand's second-party data.
Luckily, both Acme Media and Eva Air are mParticle customers, so Acme Media can create an audience with the parameters "subscribed to the newsletter" and "live in NY" and easily share it with Eva Air through the mParticle platform. Eva Air has full control over whether to accept or reject the audience and the fully encrypted data is sent securely in a matter of minutes.
Step 5: Execute
Now that Eva Air has received second-party data from Acme Media, it's time for them to put it to use and acquire new users in the NY area with personalized ads like, "Book your next flight from NY to 100s of destinations through the EvaAir app and receive $100 travel credit."
Usually, delivering targeted ads to a specific segment requires marketers to upload a static .csv file to each individual advertising platform. With none of the platforms speaking to each other, it can be difficult to track when a user converts, and more importantly, when to stop serving them the ad.
With mParticle you can instantly connect your shared audience to multiple platforms, including Facebook, Snapchat, Applovin, DoubleClick and more. Audiences sent using mParticle will continue to refresh based on real-time user data, allowing brands to deliver timely relevant ads, and improve ROI.
Want to learn more contact us today!
Get started with mParticle today
Connect with an mParticle expert to discuss how to integrate and orchestrate customer data the right way for your business.
Request a demo
Startups can now receive up to one year of complimentary access to mParticle. Learn more