Amplify your customer data
with AI
Combine real-time data quality and governance protections with AI-powered insights and predictions. Only with the mParticle Customer Data Platform.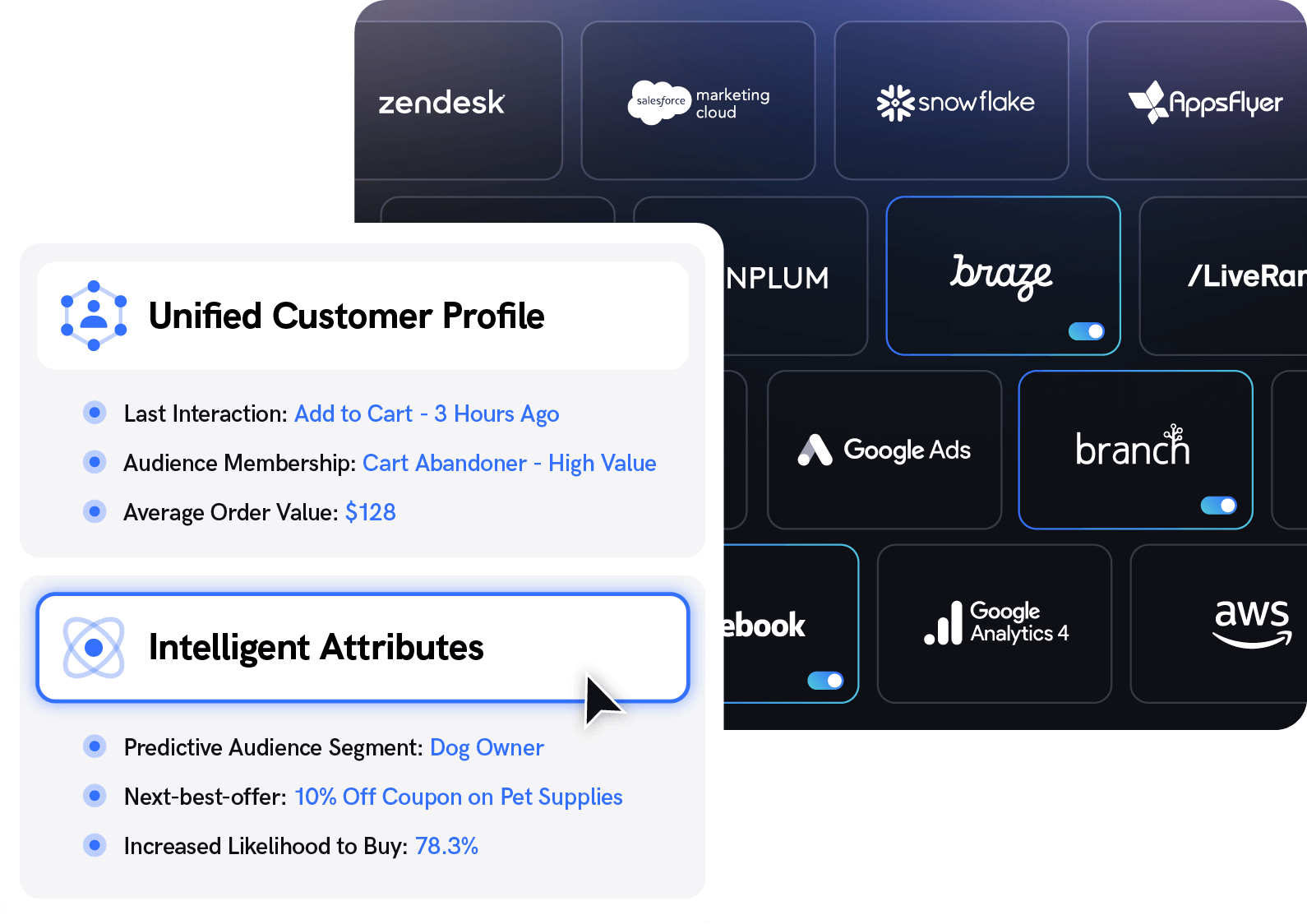 The Recipe for QSR Success
Ready to win more customers and increase your revenue with a best-in-class digital dining experience? Download this guide now.
Marketers

drive growth and create the best experiences
Improve conversion, retention, and time-to-monetization with high-quality customer data, available wherever you need it.
See marketing solutions
Build a single view of the customer
Optimize every experience by getting access to complete customer context. Unify each touch point, from anonymous to known, across every channel into a single profile.
Predict future outcomes and take action
Leverage the power of AI to proactively target likely-to-convert users or to mitigate churn risk.
Create real-time audiences
Segment users for targeting into dynamically updated lists and distribute them to leading marketing and advertising solutions with just a few clicks.
Design and analyze user journeys
Orchestrate multi-step, cross-channel sequences, and analyze results with Indicative journey analytics.
Product Managers

create more relevant customer experiences with better data
Build a first-party data foundation to scale customer engagement and reduce risk from perpetually changing technology, vendor, and privacy landscapes.
See product solutions
Activate your best-of-breed stack
Power all of your tools, in real-time, with clean and reliable data, so your business can make the best decisions.
Break down data silos
Ensure all of your data stakeholders have access to the data they need. Align marketing, product, and data teams across a common data taxonomy.
Safeguard customer privacy
Exact granular controls to govern the flow of data, based on user privacy preferences. Automate GDPR, CPRA, and LGPD subject requests.
Explore your data with Journey Analytics
Get answers to questions such as "where do users drop off?" No SQL required.
Developers

empower your organization with easier access to customer data
Simplify customer data management and streamline access to high quality customer data across your tech stack.
See developer solutions
Collect data from any source
Easily ingest data from your web, mobile, OTT, or cross-platform app.
Manage data quality
Define, correct, and enforce data standards with schema management and transformation tools.
Connect data to any tool, in real-time
Integrate with 300+ marketing, analytics, and data warehousing tools.
Integrations
Your customer data, where you need it, faster
Connect your customer data to all the tools your team uses to drive growth.
View all integrations
Why mParticle
Businesses of all sizes choose mParticle
With unique capabilities and service for the largest, most complex enterprises and the flexibility and speed to serve growing startups, mParticle has you covered.
Customer stories
Best-in-class security, scalability, and reliability
Build your data foundation on the #1 trusted customer data platform.
The most complete, purpose-built CDP
Build your first-party data foundation on the only CDP that offers an end-to-end solution for data management, analytics, orchestration, and predictive intelligence.
Trusted expertise
Put our extensive knowledge, deep relationships with data and analytics experts at leading consumer brands, and over 20+ years of executive team experience to work for you.
Flexible pricing to get started
Sign up for a free trial, or ask about our growth plans. 
A CDP that grows with you
Future-proof your investment with a modular platform that scales with you from 0 to 100. Start with any combination of: data pipelines, analytics, audiences, AI prediction, or all of the above.
Best-in-class support
Our world-class services team is here to help you onboard quickly and successfully.
Try out mParticle
See how leading multi-channel consumer brands solve E2E customer data challenges with a real-time customer data platform.
Explore demo
Sign up
Contact us
Startups can now receive up to one year of complimentary access to mParticle. Receive access