Control how your first-party app data is distributed to analytics, attribution, automation, and crash reporting services with the new Mappings feature.
We're excited to announce our latest feature release—mappings.  Mappings provide app marketers and developers with unmatched flexibility and control over how mParticle distributes their first-party app data to the analytics, attribution, marketing automation, and crash reporting services that they rely on to manage their mobile businesses.  The mappings interface also provides greater transparency into mParticle's event forwarding logic by displaying information about the default mappings that are automatically activated whenever an mParticle integration is switched on.  Most importantly, mappings enable you to move faster: with this feature, integration changes that would normally require a spec, code changes, and prioritization alongside other critical development initiatives can be enacted in a matter of minutes in the mParticle console.
To get started with mappings, head to the services page on the mParticle console, select a service (we'll use Facebook in this example), and click the "Edit Mappings" button: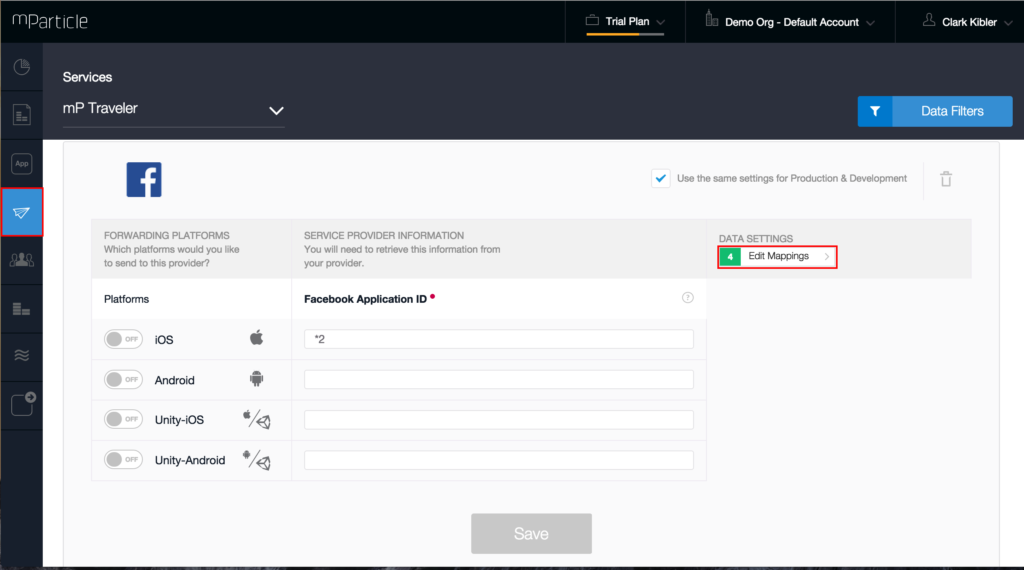 In the custom mappings panel of the resulting screen, you can see a list of the pre-defined app event types that can be sent to Facebook.  For this example, let's click on the event type "Rated":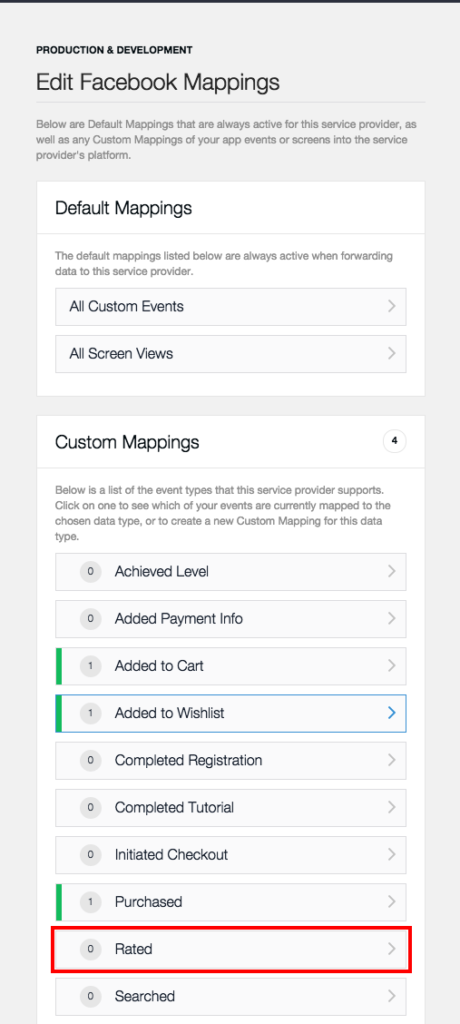 Another screen should appear on the right, allowing you to map one or more of your app events to Facebook's rated event type.  Doing so will cause the chosen app event to show up in Facebook as a rated event, instead of as a generic custom app event, which is the default behavior.  For this example, let's map the mParticle app event named "Rate" to Facebook's rated event type by selecting it in the drop-down menu at the top of the screen: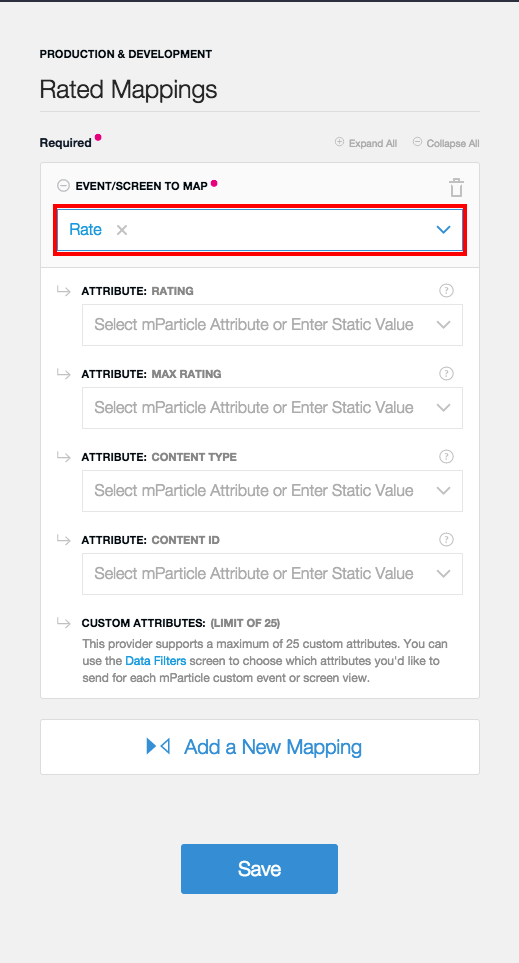 As a best practice, Facebook recommends that app developers send the following attributes along with Rated events:
The rating given by the user.
The max rating that the user could have given.
An optional category for the item that was rated by the user, which Facebook calls the content type.
An identifier for the item that was rated by the user, which Facebook calls the Content ID.
In the above screenshot, you can see that each of these attributes is listed with an accompanying drop-down menu.  You can use the drop-down menus to map your app event attributes to the corresponding Facebook event attributes.  For example, let's map the Rating attribute as illustrated below: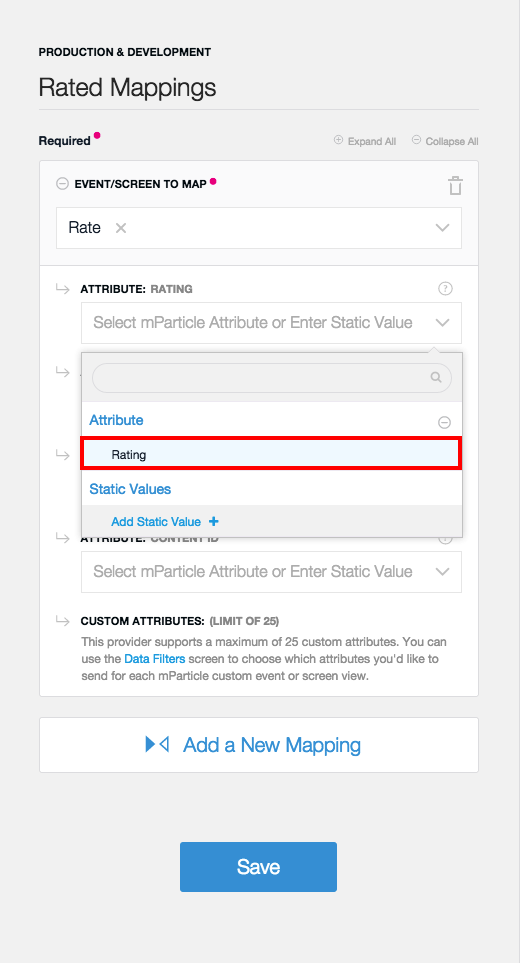 As it happens, we don't have a corresponding app event attribute that we'd like to pass to Facebook as the Max Rating, but because we know that all ratings in our app are out of 10, we can pass a static value of 10 to Facebook as the Max Rating.  To do this, simply click on "Static Values" in the drop-down menu, type "10", and click on "Add":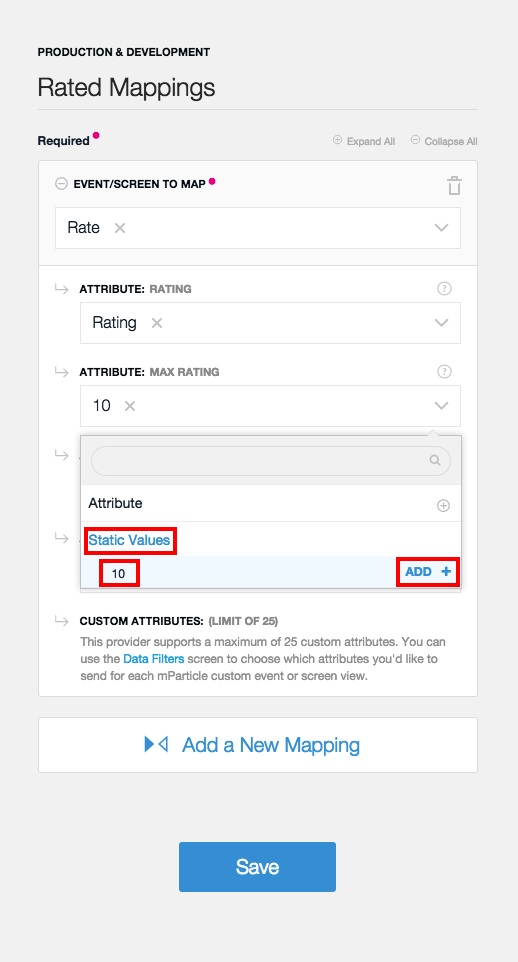 Once you're done configuring the mapping, you can click on "Add a New Mapping" to configure another of your app events, or press "Save" to activate the mapping that you've just setup.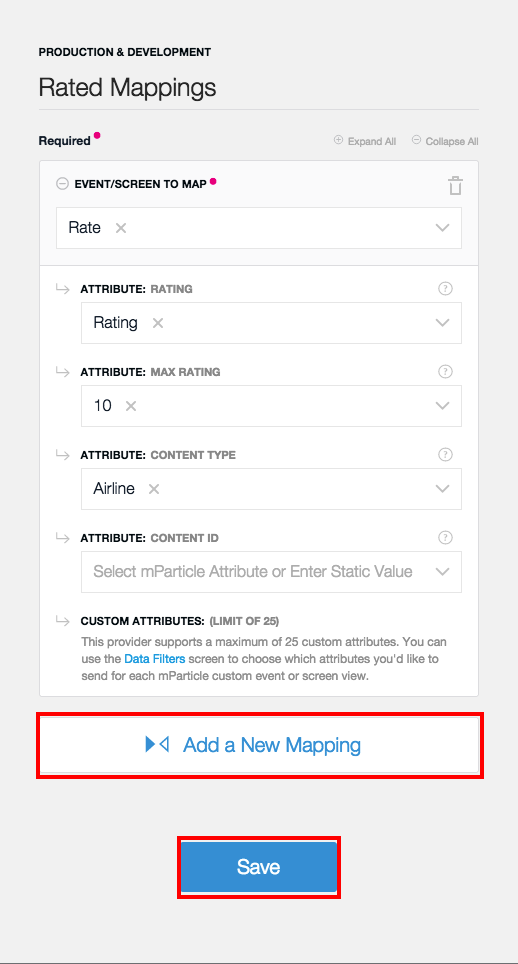 The mappings feature is currently available for Applovin, Facebook, and MobileAppTracking, with more services on the way.  For more information about mappings and how mParticle can accelerate your app development and marketing efforts, drop us a line at info@mparticle.com and we'll get right back to you!
Try out mParticle
See how leading multi-channel consumer brands solve E2E customer data challenges with a real-time customer data platform.
Explore demo
Sign up
Contact us
Startups can now receive up to one year of complimentary access to mParticle. Receive access