3 eCommerce marketing trends sure to rule ShopTalk 2018
Learn about three of the biggest ecommerce trends bound to come up at this year's ShopTalk conference: personalization, mobile-first, and voice-activation.
Shoptalk Las Vegas kicks off next week with over 7,500 attendees working in or around the retail industry. As every year, the conference will center on the rapid evolution of how consumers discover, shop, and buy. This blog will cover three of the biggest trends bound to come up at this year's ShopTalk conference: personalization, mobile-first, and voice-activated commerce.
Personalization
Today's online shopping experiences are more personalized than ever. Consumers are largely able to get what they want, when they want, across devices and channels—so why is this still a topic at hand?  
Personalization efforts to date have been largely myopic in their measurement. The trouble with this simple personalization measurement is that while it leads to small wins, it is an inadequate substitute for the power of a fully implemented personalization strategy. For many brands, personalization efforts remain shallow and disjointed; for example, including someone's first name in a push notification to get a better response rate or including an abandoned shopping cart message in your email marketing are chalked up as wins in the personalization department, without a follow-up plan.
While these are great small wins, the disjointed nature of this approach doesn't come close to true personalization. Instead, this approach has created a culture that promotes siloed systems for the business where data lives (sometimes only) in disparate systems and vendors that vow to deliver on the promise of personalization.
So, how do you use consumer data and insights to create personalized, direct-to-consumer shopping experiences that maximize customer loyalty and lifetime value? Overstock.com found the answer in using a Customer Data Platform to centralize and store all customer data. By implementing a CDP, Overstock's team sends hyper-personalized messages based on real-time data, across all of their activation channels, including email, SMS, app, and browser push.
Question to keep in mind for the ShopTalk attendee: How do you connect your personalized experiences today?
Mobile-first experiences
The near-ubiquity of mobile devices has driven substantial changes in how consumers engage and shop with brands and services. In fact, Wunderman says 87% of US consumers now evaluating brands against leading companies like Amazon, Uber and Netflix. While consumers are adapting quickly, businesses have been slower to respond. Simply having a mobile team and an app aren't enough to guarantee a positive customer experience. Consumers now expect the app to seamlessly connect with all brand touchpoints, which means brands need to be able to connect mobile experience to web, social, and in-store experiences.   
Target
Target is one of few brands that has been able to foster a relationship with its customers to the point of establishing itself as a cultural phenomenon. 
Today's Target customer has a highly streamlined and functional customer journey. By embracing mobile, rather than looking at it as a tertiary channel, Target has made it easier for customers to move from casual browsing to purchase no matter what the channel.  To streamline the customer journey, Target has set up real-time updates between desktop, mobile web, in-store, and mobile app.  
Added an item to your shopping cart but couldn't check out before you headed out the door? Pull up your Target mobile app, your item is waiting for you.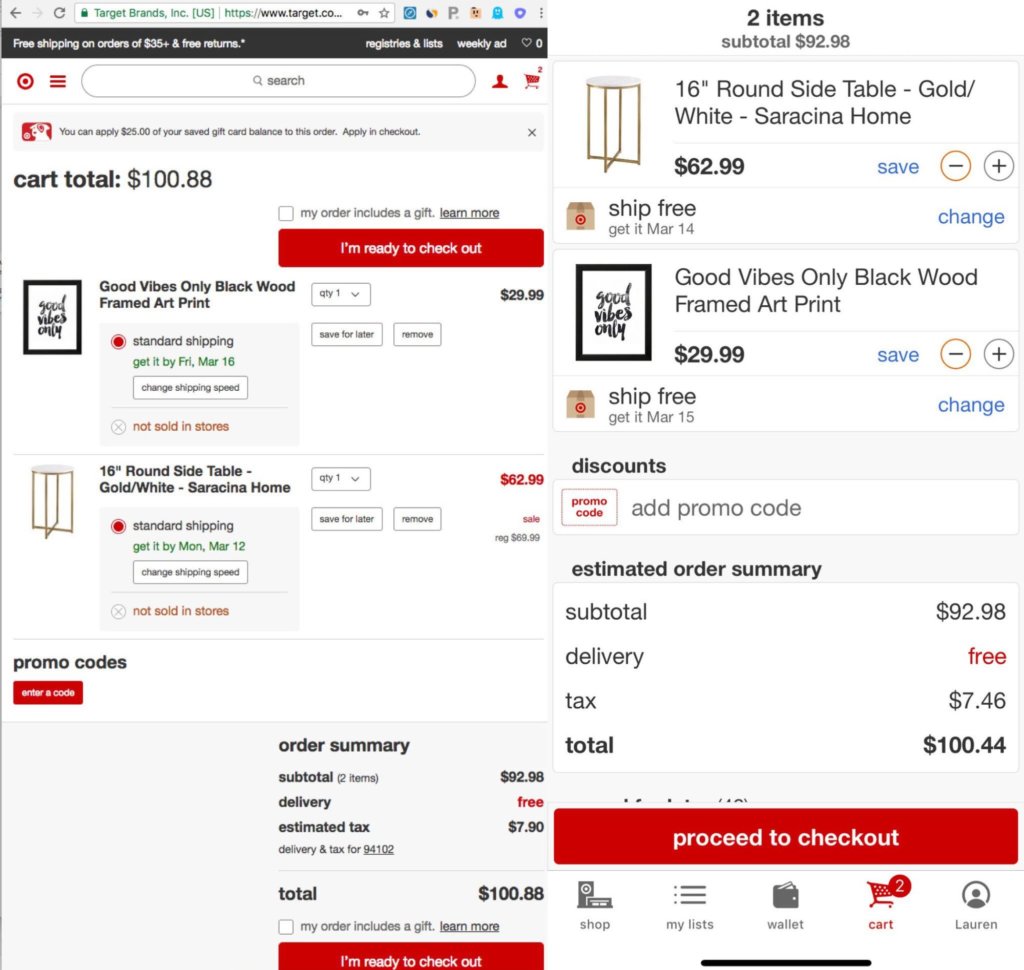 Both the Target website and mobile app are also able to pull up a detailed purchase history, which includes items from a recent in-store shopping experience as shown below.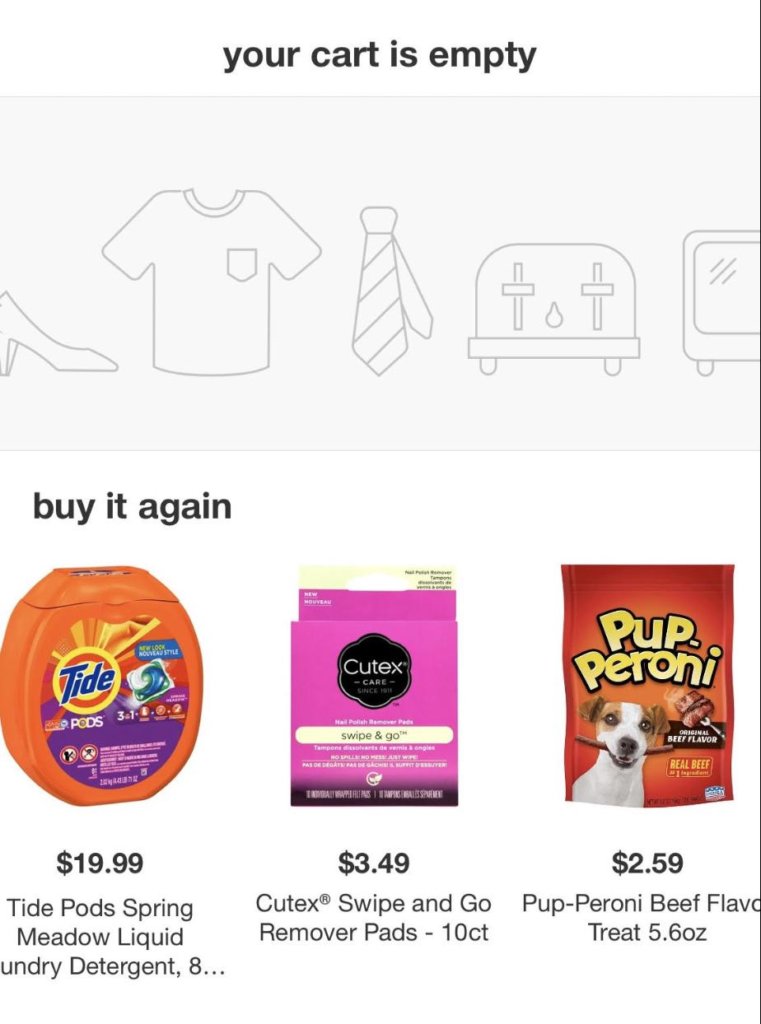 Cartwheel: a digital coupon book that allows you to clip and save discounts on the app while shopping in-store. This feature not only makes for a more streamlined consumer experience, now Target can connect online and offline identity!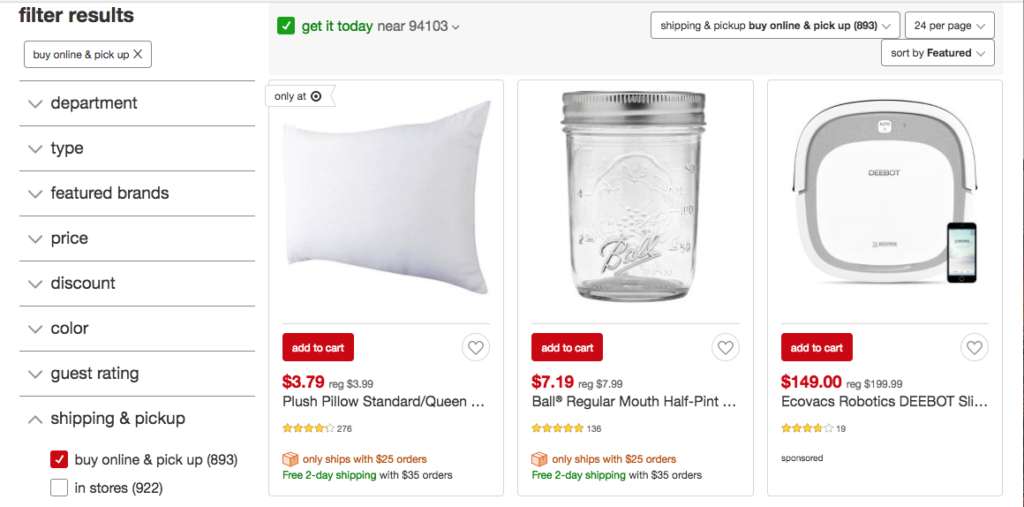 Want to see an item in person before buying? Ship to store or use your mobile device to check location-specific store inventory before heading in.
Question to keep in mind for the ShopTalk attendee: How is mobile integrated into your user journey?
Voice-activated commerce
The rise of voice-activated assistants like Apple's Siri, Amazon's Alexa, and Google Assistant is creating a new mass market platform that is enabling discovery and, increasingly, commerce. At the same time, innovative startups are building technologies that allow retailers to incorporate voice capabilities into their own mobile apps and websites.
Fandango has long supported ticket sales via Siri, and more recently, Alexa.  BestBuy also became a member of the Voice-Activated ordering club just in time for last holiday season by enabling purchase of deal of the day through a voice command to Alexa.
The proliferation of voice-activated devices means that eCommerce brands need to decide if they will implement voice activation and, if so, how they will support sales on voice-activated devices.
For the Shoptalk attendee: Are you planning to enable voice-activated ordering or advertise on these voice-activated channels?
Summary
In summary, at Shoptalk we expect to hear more of the updated challenges of yesteryear (personalization, mobile) while learning about where the future of commerce may go.  How we will adapt? Hopefully this post gave you some ideas and Shoptalk will fill in the blanks.
So, what's on your agenda for Shoptalk? Feel free to reach out via Linkedin or email me, if you'd like to discuss or meet up!  
Get started today
Try out mParticle and see how to integrate and orchestrate customer data the right way for your business.
Explore demo
Sign up
Contact us
Startups can now receive up to one year of complimentary access to mParticle. Receive access