The top 5 ways mParticle saves your mobile team time
We polled our customers to learn more about how mParticle saves them time when it comes to running their apps. Here are their top five ways:
Single integration, multi-distribution approach
Goal: Turn on/off services such as analytics, push messaging, crash reporting and marketing without disrupting development cycles, or waiting for app store approval.
With mParticle: Once mParticle is implemented into an app, all future integrations are moved out of the client and onto the server. This means no more extraneous SDK updates or code changes within the app. Sign in to your mParticle account to seamlessly send data with point and click simplicity. We repeat, no more SDK updates or code changes!
Without mParticle: Implement each SDK individually requiring redundant data capture and resource consumption increasing time spent on QA and less on app development. As more SDKs are embedded into an app, the more likely the app will become destabilized due to conflicts and crashes. This leads to even further development time spent on SDK maintenance.
Data filters to control data flow
Goal: Configure how much and what type of data is sent to each partner.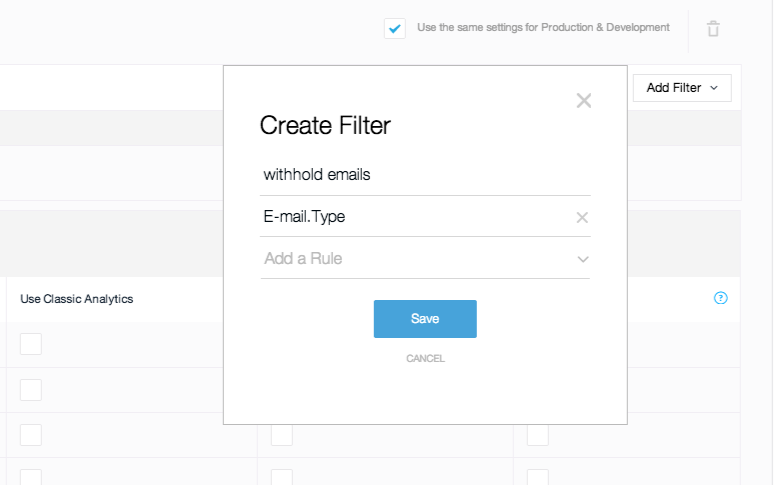 With mParticle: Data filters enable you to keep certain types of data out of various partner platforms. For example, if you wanted to withhold email addresses or other types of personally identifiable information (PII), you can simply select emails from the data-filter drop down menu and hit 'save' which will ensure that no email addresses are sent out to that partner. This will ensure that you are always compliant with your data policies and protect your users' privacy.You can also use these filters to reduce data flow to partners in order to limit or reduce your monthly cost without having to forfeit data ownership!Without mParticle: Companies often change their privacy policies and to restrict sharing certain user data with 3rd party services, but they don't have a quick way to execute the new restrictions. This can create a gap that that opens the risk of user complaints or public misperceptions.We also see partners collect more data than is required to power their services. Data filters put you in control of your data!
Data replay to ensure data continuity
Goal: Send historical data to any new provider. You want to protect against service provider outages or you want to unify historical data across multiple partners to a new partner.
With mParticle: mParticle keeps all of your app data in one central location so data replay happens instantly. You tell us how far back you'd like us to go and we batch upload all the historical data into your new provider. Leverage which services you want with all the data you need to make sure they are valuable from day 1!
Without mParticle: You can try exporting your historical data from partners but it will not be structured in the way that other solutions require and it may be incomplete. This is an incredibly time-consuming process, not guaranteed to work, and it's far from a high-value activity.
Audience activation partnerships
Goal: You want to build an audience and engage with that audience segment on a marketing channel like Facebook to improve user retention.
With mParticle: Segment data any way that you would like based on a combination of user-level, device-level, custom events, and app lifecycle events. Once the segment is defined, you determine where you want to send the audience; any time any of your users qualify for that segment, mParticle automatically includes them and the segment is automatically updated in your downstream partners.
Without mParticle: If you are collecting user ID's you would need to write a query in your database and pull a list of users. Once you pull a list user ID's you need to figure out how to clean the data so that it can be uploaded into a marketing channel like Facebook. Non-technical people can not pull this list, so marketing teams must rely on their engineering teams for these requests. Additionally, there is lots of redundant work as engineers need to keep querying the database to pull the new users who qualify for a given segment.
Data reconciliation
Goal: Minimize the amount of time spent on reconciling variances from vendor dashboards
With mParticle: You can easily track where data inconsistencies are originating from a single point of truth. You will also get a better understanding of the various methodologies that each of the vendors use to report various metrics.
Without mParticle: None. Hopeless data reconciliation with no clear desired outcome or course of action.
Summary:
You might have noticed that the ways mParticle helps app owners save time all seem similar. Lots of the time spent running an app today stems from redundant implementations, leading to excess time spent QAing and data exporting/importing. While all these issues above have manifested themselves into serious time strains, the underlying problem is a lack of data infrastructure. Until now there hasn't been a data layer for the app ecosystem to allow for a solution.
Find out more about how mParticle can help save you time, drive engagement, and reduce costs!
Try out mParticle
See how leading multi-channel consumer brands solve E2E customer data challenges with a real-time customer data platform.
Explore demo
Sign up
Contact us
Startups can now receive up to one year of complimentary access to mParticle. Receive access