mParticle releases support for User Attribute Arrays
User attributes have just become more actionable and accessible thanks to our new User Attribute Arrays. Partners that support arrays will be able to ingest data more easily than ever.
When people engage with your app frequently, and over prolonged periods of time, customer data profiles can become complex and multidimensional. One day someone is listening to hip-hop, the next day heavy metal. One day they are buying tickets to the Yankees, the next day the Brooklyn Nets.
People live their lives in multiple dimensions and a company's data model needs to be able to support that. As a result, the CRM discipline is rapidly evolving from legacy approaches (centered around demographics and recency/frequency/monetary value segments) to more modern methods (incorporating nuanced personas, cross-channel journeys, and more granular engagement data). Many of the CRM partners mParticle supports are at the leading edge of this new age, and can make great use of multidimensional data when it's provided to them in the right way.
That's why we're excited to announce the launch of User Attribute Arrays across all of our SDKs (client and server) and our Firehose API, allowing integration partners who support arrays to easily ingest data in a more convenient and relevant format. 
User Attributes are data used to describe a person (as opposed to, say, an Event). The availability of Attribute Arrays mean that the relationship between a user and any given attribute of that user need not be 1-to-1, it can be 1-to-n. In the example below, three of the attributes are 1-to-1 but the fourth ("Tastes") is 1-to-n. This is because a user in this particular data model can have multiple tastes, not just one.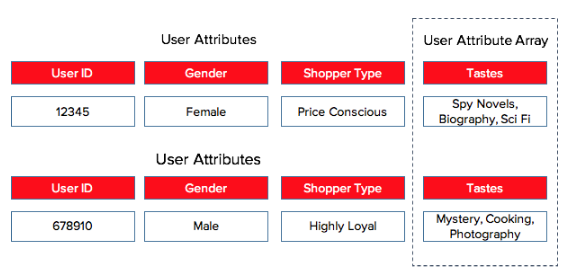 User Attribute Arrays can come in handy in many different scenarios, particularly as you get to know a user more deeply over time (which apps typically do). For example, a weather app might want to create a User Attribute Array around the cities someone has indicated in their preferences. Similarly, a stock trading app might want to capture in a single attribute all of a user's stocks that they are tracking. In addition to explicitly-defined data like these, User Attribute Arrays can also be used to group elements of implicit, event-defined data into a "Food Preferences" attribute for that user, as in this example: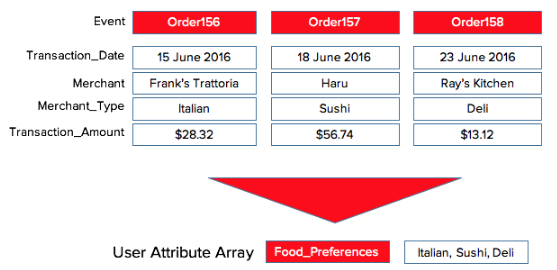 User Attribute Arrays create a structured format for managing these data points together, so you can understand and communicate with users according to all their profile dimensions.

To learn more, contact us.
Get started today
Try out mParticle and see how to integrate and orchestrate customer data the right way for your business.
Explore demo
Sign up
Contact us
Startups can now receive up to one year of complimentary access to mParticle. Receive access