Customer Data Platform ROI: Marketing effectiveness
This blog is part one of a five-part series on customer data platform ROI that will show you how to improve customer data operations and build a better business case for data management across your organization.
This blog is part one of a five-part series designed to help you build a better business case for data management. The second blog covers marketing efficiency. The third post covers risk management. The fourth post covers strategic value. The fifth blog covers total cost of ownership.
Marketers always talk about data being a "core asset," but rarely treat it that way. When it comes to securing, measuring, and maximizing the financial value of their data investments, even the most data-driven marketers, ironically, overlook the basic tenets of financial planning and analysis.
This series is designed to help you build a better business case for data management, and understand the levers with which to measure and optimize the ROI of the investments you've already made.
The five levers of customer data platform ROI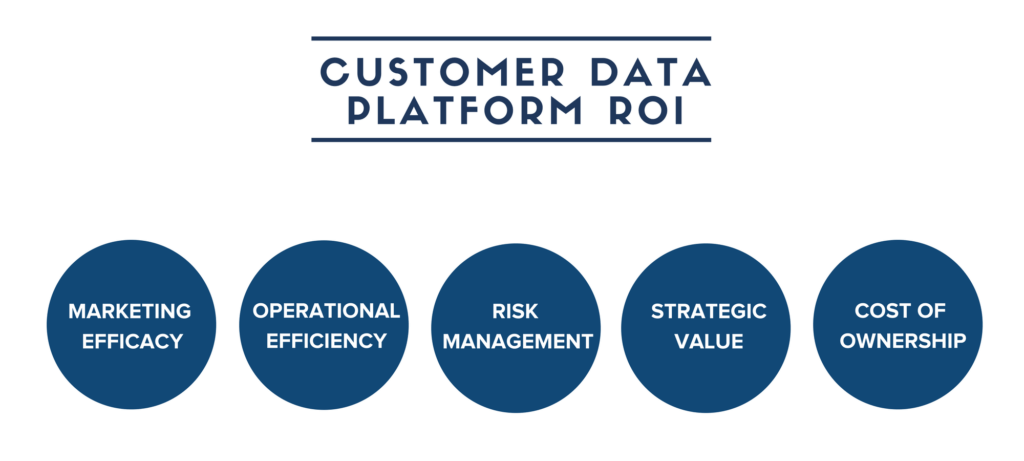 Whenever deciding how to allocate scarce resources from one project to the next, it's not only the direct performance lift you should be thinking about. Factors such as time, risk and the cost of capital are also critically important in making a fully informed decision.
Similarly, to assess the business impact of any data infrastructure investment, and specifically a Customer Data Platform (CDP), you should organize your business case into the following five areas:
Marketing effectiveness:

T

he incremental value associated with creating "more bang for the same buck"

Marketing operations cost avoidance:

The cost savings associated with operating more efficiently

Risk reduction:

The value associated with reducing business, technology, and regulatory risk

Strategic value: The value associated with creating barriers to entry based on customer data advantage, which in turn drives profit margin
Total cost of ownership: The total cost of the CDP initiative, including software license, setup, services, training, and operations
Each of these levers represents an opportunity to optimize value return to the business.
Marketing execution efficacy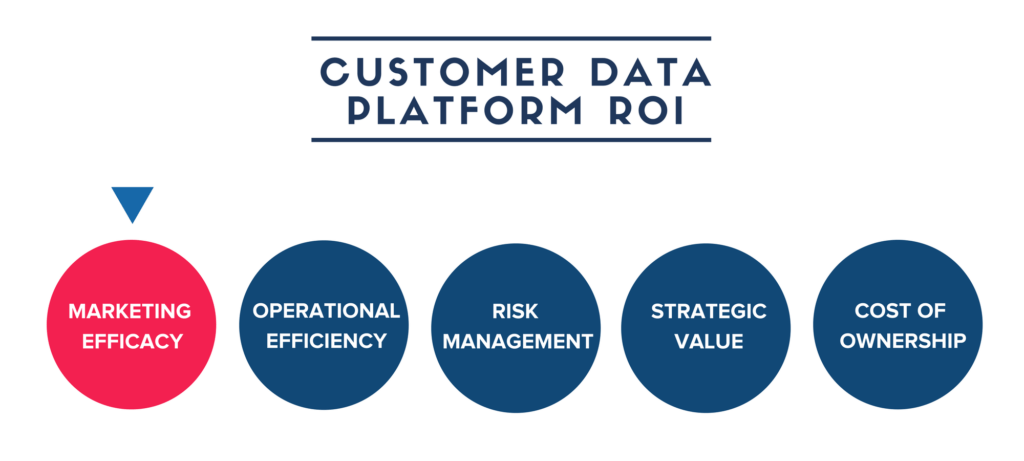 The first thing that marketers need to ask themselves when considering a new CDP is how it could provide value in terms of efficacy. Marketers know that personalization can provide 5-8x the ROI on marketing spend, and lift sales by 20%.
Data connectivity, unification, accessibility, and control—for which CDPs provide a partial, technology-enabled solution—are a necessary but not sufficient part of getting personalization right. So how do you value their contribution to performance lift?
My recommendation is to break their contribution down into three areas:
Speed
Personalization data has diminishing value to marketers over time. Out-of-date segments result in inaccurate targeting, where messages are delivered to people that no longer fit the target parameters and aren't delivered to people that should be targeted. CDPs let you climb the time-value curve,unlocking opportunities beyond what would ever be possible with manual methods for segmenting and connecting data.
Questions to ask: Is your data time sensitive? What opportunities can you unlock with faster data?

Orchestration
Beyond feeding your targeted campaigns with recent and relevant data, CDPs can also provide cross-channel lift. Orchestrated messaging across advertising and marketing channels, for example, has been shown time and again to yield better results than doing either one isolation. According to one study commissioned by Facebook and Salesforce, a customer that coordinated its Facebook advertising with email increased reach by 77% and saw a 22% increase in purchase intent for customers exposed to messages in both email and ads.
Questions to ask: What channels or customer journey stages in your marketing mix could be better coordinated? What would be the lift* from better orchestration? (*note: you might try answering this question by conducting a manual test first)
Context
Last but not least, there's the value of personalizing advertising and marketing messages based on the full customer context that you get with a CDP. For example, one CDP vendor describes here how a retailer thought their best customers were those who purchased multiple times from their website. Only after joining the online data with in-store purchase records did they realize that those same customers were returning many items to the store, diminishing their lifetime value as customers.
This is not a new problem in database marketing. In fact, I recall a distinguished direct marketer once telling his secret to higher yielding campaigns was removing dead people from his company's mailing list. Yet, with the customer journey now bouncing across so more channels and devices today than even, with no single channel coming even close to approximating the totality of the experience (and some engagement points, like mobile, being extremely personal and potentially intrusive), it's essential that companies' targeting and personalization efforts are rooted in a holistic, up-to-date customer view at all times.
Questions to ask: What are your current blindspots when it comes to personalization? What opportunities might you be able to unlock with better context?   
Learn more
Ready for more? Click here to check out the next post in this series, where you will learn how to measure the efficiency benefits of a CDP.
Get started today
Try out mParticle and see how to integrate and orchestrate customer data the right way for your business.
Explore demo
Sign up
Contact us
Startups can now receive up to one year of complimentary access to mParticle. Receive access