CDP ROI: Operational efficiency
This blog is part two of a five-part series designed to help you build a better business case for data management with a CDP. This part focuses on how a CDP can help brands increase operational efficiency.
This blog is part two of a five-part series designed to help you build a better business case for data management. The first blog covers marketing efficacy.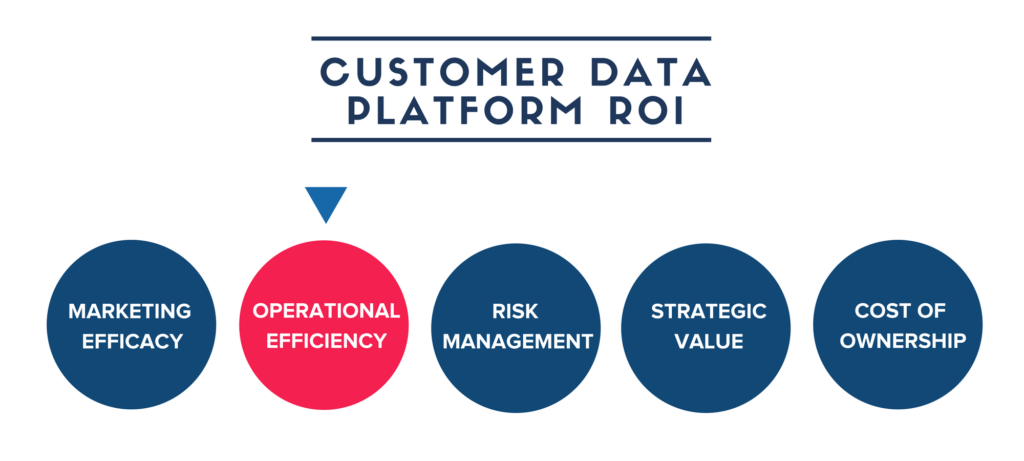 The second customer data platform business case driver, operational efficiency, focuses on the cost saving aspects of a CDP ("same bang for fewer bucks"). Depending on the CDP you are evaluating, and how it is implemented, you may be able to find cost savings through automation in one if not all three areas of these areas:
Data integration efficiencies
Most advertising and marketing technology platforms—even SaaS-based ones—require a considerable upfront investment to get them working properly. These investments pile up when you consider that the average large company has 22 martech platforms in their stack, and eight more in the process of being deployed.
In fact, these numbers (from Gartner) probably understate the number of tools in the mobile space, where implementation is even more complicated. Native apps are software products consisting of independent elements, so data collection requires a skilled engineer to define what user interactions should be captured for each app element. Because this happens on a per-SDK basis, there can be hundreds of in-app events that need to be manually tagged and run through a QA process. CDPs with the right prebuilt connectors can provide a fast path to integration, reducing setup costs by as much as 90% and saving literally thousands of hours of engineering time. As another example, SeatGeek, the event ticket search engine, found that using a CDP as the foundation for their marketing stack decreased the time for new vendor integration from several weeks to just under three days.
Furthermore, every integration (mobile, marketing cloud, or otherwise) requires constant maintenance, which carries its own resource cost. Partner APIs change all the time and so without a CDP, you are susceptible to spending time and energy on seemingly endless integration efforts, rather than core development and marketing.
Questions to ask: How many integrations are you currently maintaining, and how many new platforms do you anticipate implementing over the coming 12-18 months? What is the dollar value of setup and maintenance costs that could be avoided with the right CDP?
Marketing ops efficiencies
A typical people-based marketing workflow could include a marketer defining a segmentation strategy (e.g., "give me everyone who has attended one of our events and engaged with 2+ of our digital properties in the past 12 months"), sending it to engineering for processing, then uploading the resulting audience to separate platforms. This process is repeated constantly as new platforms are tested and to ensure audiences stay up to date. Similarly, time-intensive processes are performed whenever the business wants to perform bespoke customer journey analyses–and we have not even begun talking about the kind of data cleanup needed for more complex predictive and prescriptive analytics. Fortunately, much of the back-and-forth around these queries can be automated with a CDP, saving the company significant resources as Stash Invest's Annica Lin discovered:
Questions to ask: How much time do your marketing, analytics, and data operations teams spend building user lists each month? What is the dollar value of the time that could be saved by automating these activities?
Media cost avoidance
Suppression lists have long been a popular tactic among direct marketers because they can help to minimize exposure fatigue and improve overall customer experience. With many paid media channels now offering identity-based advertising, they are also becoming a favorite tactic for media buyers looking to increase ROI by eliminating spend on wasted impressions. For example, SeatGeek found that on Snapchat alone 30 to 40% of their app install campaign impressions were being wasted on people who already had the app! Because they had a CDP, they were able to flip a switch and tell Snapchat to stop sending the app install campaign to those users, and keep Snapchat constantly informed as new users convert to unenroll them from the campaign as well.
Questions to ask: How much are you spending on paid media that could be saved with better suppression list management and syncing?
Ready for more? Part three addresses the risk management benefits of a CDP. >>
Get started today
Try out mParticle and see how to integrate and orchestrate customer data the right way for your business.
Sign up
Contact us
Startups can now receive up to one year of complimentary access to mParticle. Receive access