This blog is part three of a five-part series detailing how using a customer data layer can help brands comply with data privacy standards and mitigate risk across their portfolio of martech investments.
This blog is part three of a five-part series designed to help you build a better business case for data management. This post covers how using a CDP can help companies reduce risk. The first post covers marketing efficacy and the second post covers the marketing efficiency benefits of a CDP. The fourth post covers strategic value. The fifth blog covers total cost of ownership.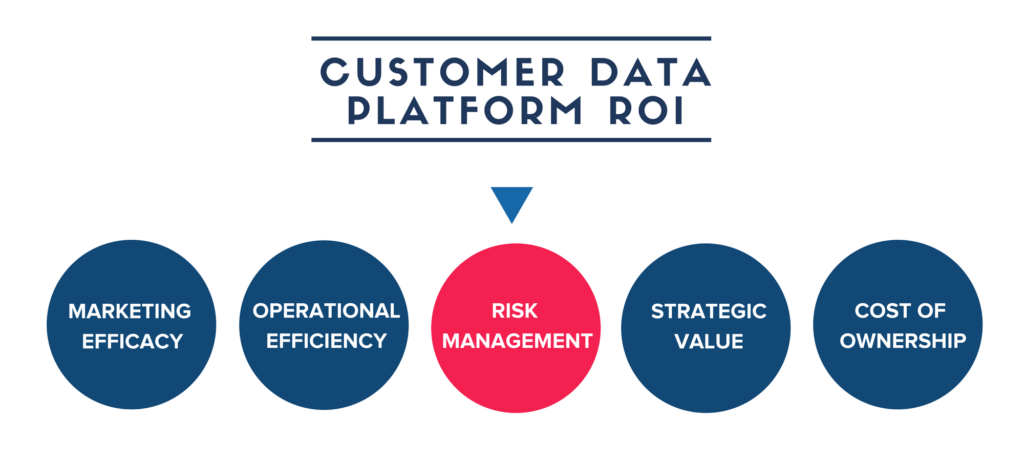 More and more, marketing investments involve a considerable amount of risk. On one level, they have become now more capital intensive, with high upfront cost investments in technology amortized, one hopes, over considerable lengths of time (much longer than a single "campaign"). At the same time, many of these investments carry with them not only technology and financing risk, but also no small amount of regulatory compliance risk.
How CDPs help mitigate risk
Uncertainty increases the required "breakeven" point for investments, including marketing investments, essentially raising the bar. Customer data platforms, by mitigating risk, lower that bar down somewhat.
Insurance policies operate under much the same principle. By eliminating, or at least lowering, your downside risk,  they create a measurable value that you as a consumer are willing to pay for.
Investing in a CDP can create an insurance policy of sorts in three areas, reducing platform risk (data dependency), payback risk (time to value), and regulatory risk (ensuring your ecosystem is compliant).
Platform risk
While most SaaS investments bill themselves as a subscription service, they often require significant upfront investment in integration and training, and, then—should you cancel—it's not always easy to carry your data with you to the next provider.
What's more, any partner you work with can experience data outages, whose effects can be devastating.
CDPs can help you mitigate the risks of platform lock-in, data loss, and obsolescence by storing a copy of your data that you can "replay" to new vendors, or the same vendor, at any time. Using a CDP puts your data under your control so that you're not at the mercy of third-parties.
Questions to ask: What is the likelihood of a vendor you are using having a data outage, or that you will need to swap out vendors in the future? What would be the consequences to you if that happened?
Reduced time to value
By eliminating integration friction, customer data platforms are able to accelerate time to value across an entire portfolio of martech initiatives. The net result is to reduce the payback window of your marketing campaigns and technology investments. Shorter payback windows, for the same expenditure, equates to less risk.
Questions to ask: What is your current average payback period on martech investments? What is the risk premium you associate with long vs short implementation windows?
Reduced compliance risk
Data security and privacy is a concern at the top of everyone's mind, whether you are a private citizen, a brand collecting first-party data, a vendor, or a governmental body. More than ever before, your customer data needs to be secure and reliable from end to end. Data breaches are an unfortunate reality as the recent Uber, Yahoo, and Equifax breaches show, and they can cost you the consumer trust you have worked so hard to build.
Minimizing the risk of data leakage needs to be a priority for brands and for marketers, which means they need to know that every part of their ecosystem is compliant with the most up-to-date security measures. But, with the sheer number of vendors that make up a martech stack, that's a tall order. Fortunately, the right CDP can provide you with filters and controls to track and govern where data is being sent as well as how it's being collected and stored.  
Reducing compliance risk is only going to become more important as new regulatory standards are put in place, including the upcoming GDPR, that threaten significant penalties non-compliance. The GDPR is an important piece of legislature paving the way for other regulatory measures for customer data. To help you better understand what the GDPR is and how a CDP can help address the challenges brands will face upon its enforcement, we created this free in-depth guide.
Questions to ask: Is your business subject to GDPR? What are the compliance costs and risks for your business and how can a CDP help to offset some of both?
Ready for more? Click here to check out the next post in this series, where you will learn how to develop the fourth part of a CDP business case. >>
Get started today
Try out mParticle and see how to integrate and orchestrate customer data the right way for your business.
Explore demo
Sign up
Contact us
Startups can now receive up to one year of complimentary access to mParticle. Receive access