Make audience data actionable with AudienceSync A/B testing
mParticle's A/B Testing capability helps make your audience data more actionable by providing a scalable approach to experimentation.
David Ogilvy famously said, "Never stop testing and your advertising will never stop improving." Although he first made that statement more than 50 years ago, it is as true, if not truer, today. People engage with brands more often and in more ways, thanks to connected devices and web; this makes continuous testing and experimentation more important than ever.
With all the data and measurement tools on the market, testing and experimenting with content should be easy. But in practice, to run even one experiment, marketers need to beg, borrow, and steal technical resources to pull the necessary data; divide audiences into random, non-overlapping groups; and finally, deliver those audiences to execution platforms. 
mParticle's new A/B Testing capability enables non-technical marketers to streamline this process; with just a few clicks, marketers can define a segment, split it into testing groups, and sync these groups to paid media, marketing automation platforms, and more. Best of all, segments update continuously and can be modified at will, so you can make testing an ongoing part of your marketing process.
Leverage your audience data
Let's say, you are looking to re-engage shopping cart abandoners. Here are few examples of how you can A/B test creative, platform, and channel content with segment definition. 
Test #1: Same audience definition, different creative 
Creating an audience of users that added an item to their cart, but have not completed the purchase allows you to target these customers efficiently for testing. You can create this audience for testing different ad creatives on a single platform, like Facebook, with mParticle's audience builder: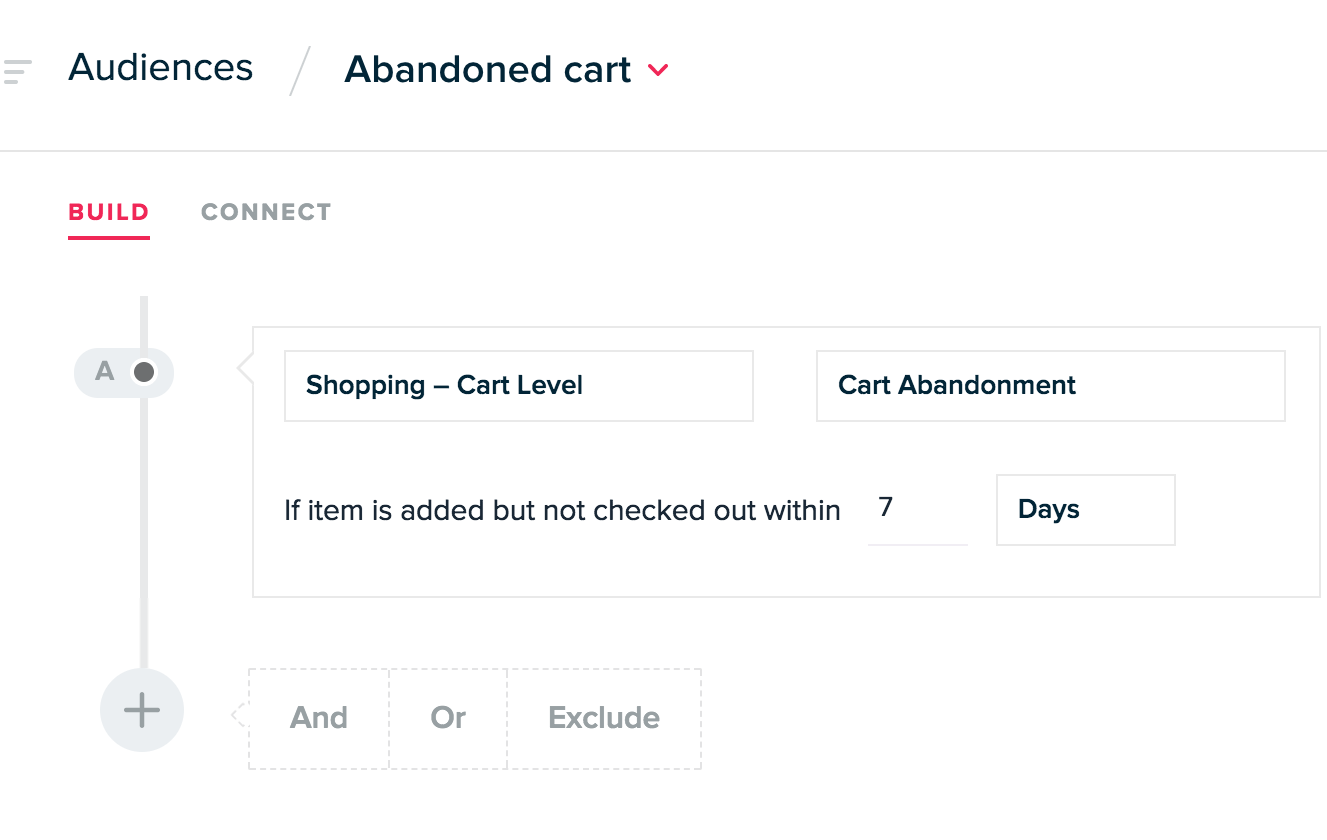 You can then split the audience by assigning a percentage to each variant. mParticle will randomly assign users to each variant and a control group based on your inputs: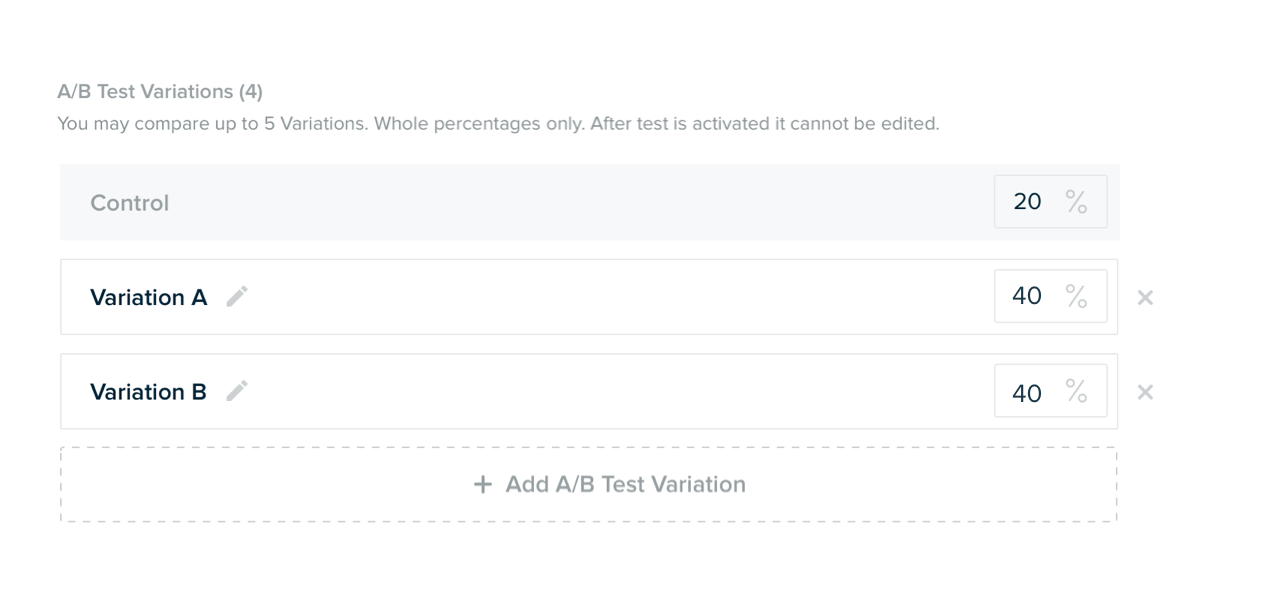 Assuming you have your Facebook account already set up to sync with mParticle, you can hit "connect" and you're done. Each variant will appear in Facebook's Ad Manager as a custom audience for you to assign different creatives: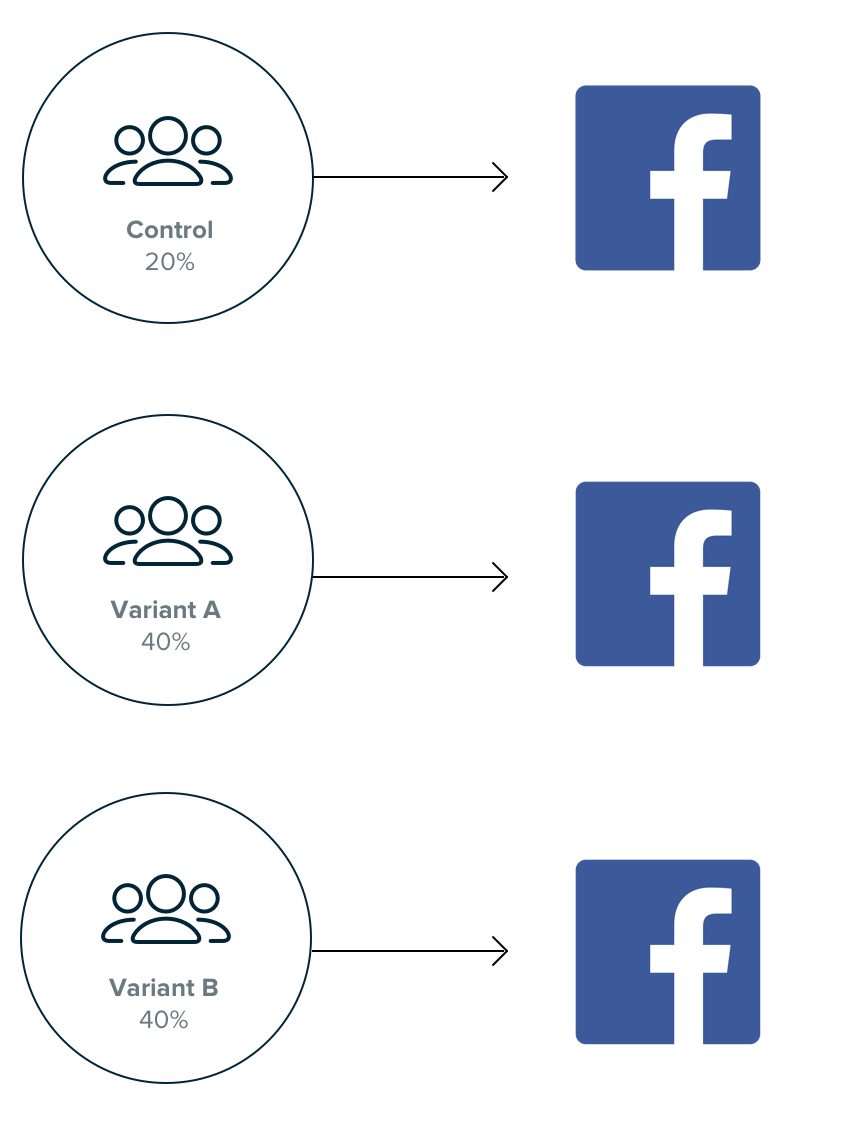 Test #2: Same audience definition, different ad platforms
One of the benefits of using a platform-agnostic customer data platform, like mParticle, is that you can test different platforms and solution providers against one another.
Going back to our example of shopping cart abandoners, you may want to test which ad platform drives the most conversions at the lowest cost. Following the steps above, you can build an audience in mParticle's audience builder and specify splits.
Then, instead of connecting all of the groups to Facebook, you would connect each group to a different platform to test the differences in performance.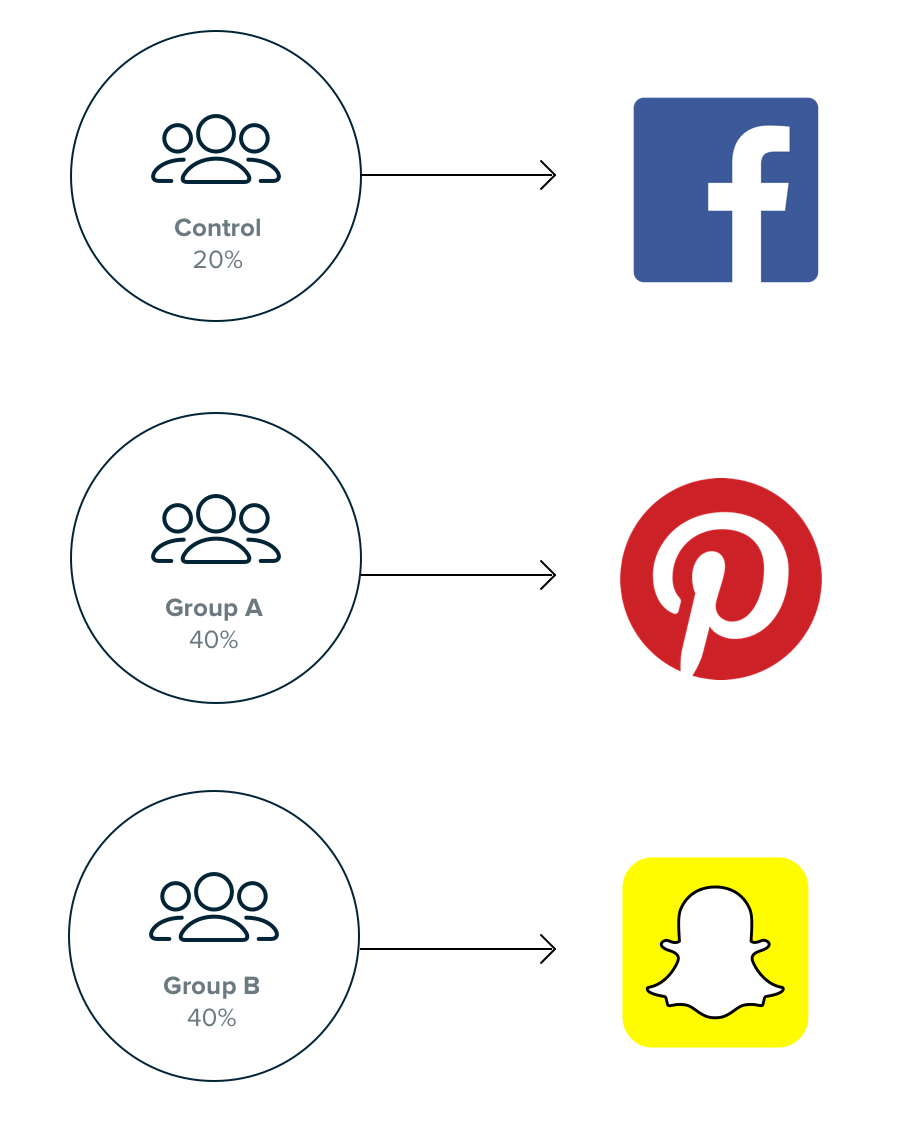 Once the campaign has run its course, marketers can compare the CPA for each platform. The A/B testing feature ensures members of one variant group will not see the ad on other platforms, providing marketers with clean data for decision-making.
Test #3: Same audience definition, different delivery channel
Marketers can also experiment with different channels to determine which one best supports their business objectives. In our example of the shopping cart abandoners, you may want to test whether a promotion delivered via email or push is more effective.  
After creating your audience and splitting it into test variations, you can connect them to different channels. For instance, you might send Group A a message via your push provider (e.g. Braze) and Group B a message via your email provider (e.g. Responsys). Using the audience split also enables you to create a control group to compare to your tests for better test analysis.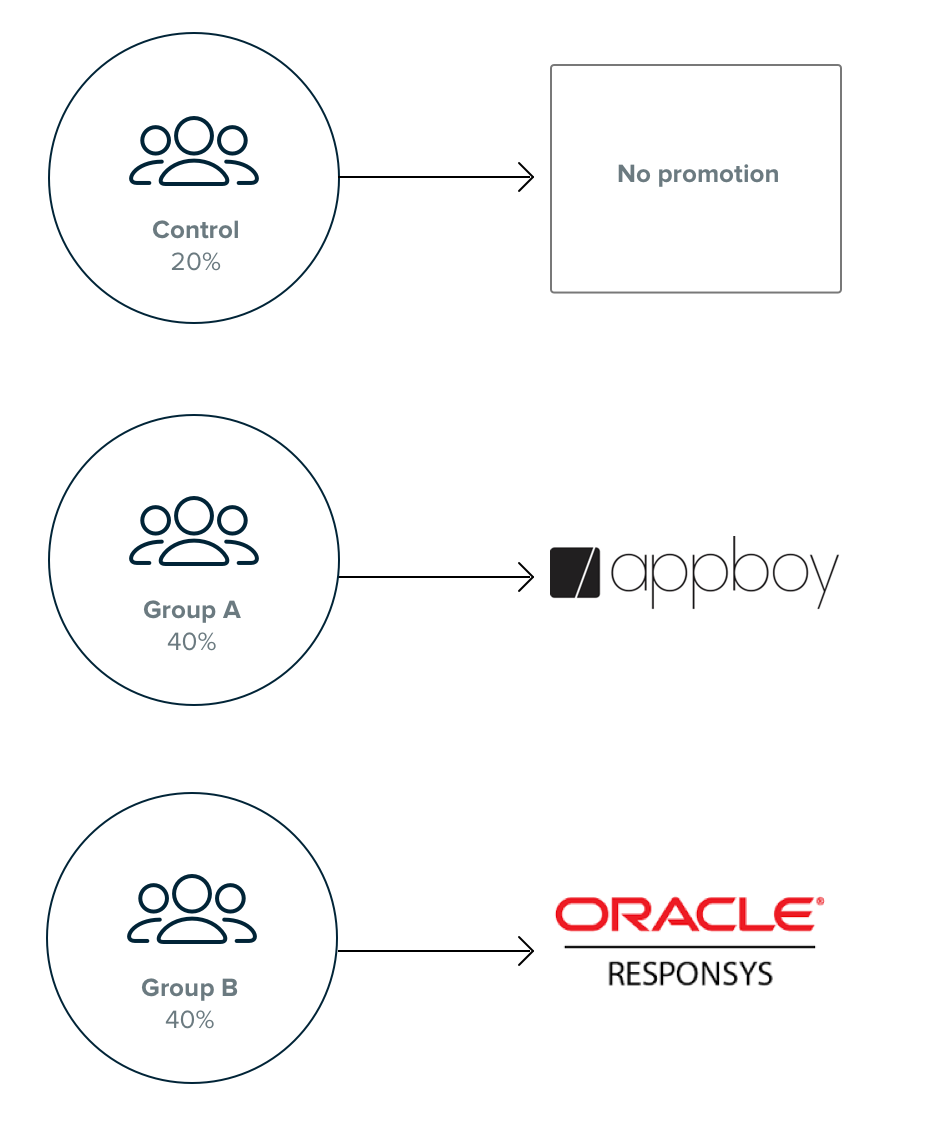 Want to learn more?
A/B testing is currently in limited beta, so if you would like to try it out, get in touch with your CSM. You can also check out the docs and contact us to learn more about how mParticle's A/B testing feature can make testing a pivotal part of your marketing operations. 
Try out mParticle
See how leading multi-channel consumer brands solve E2E customer data challenges with a real-time customer data platform.
Explore demo
Sign up
Contact us
Startups can now receive up to one year of complimentary access to mParticle. Receive access