Contextual experiences at scale with Cordial
With the new Cordial integration, marketers can create tailored customer experiences across email, web, mobile push, SMS, and direct mail that can adapt based on changing behavior or business needs for better engagement, deeper customer loyalty, and a greater return on marketing ROI.
Overview
Creating meaningful brand interactions requires an understanding of individual customers' previous engagements, activities, preferences, and needs throughout their entire journey. Without access to real-time, granular customer data to fuel campaigns, marketing teams often resort to sending generic messages in hope of reaching the right person at the right time. This approach leads to wasted opportunities and less-than-stellar customer experiences. 
Using mParticle and Cordial, marketers can access a unified view of their customers to personalize promotional, triggered, transactional, and lifecycle messages across email, web, mobile push, SMS, and direct mail. This approach yields more relevant brand interactions, at scale, that create lifelong customer connections. 
mParticle collects event and user attribute data as customers interact with your brand. From there, this data is aggregated into individual, persistent customer profiles that are used to create audiences, which are then automatically synced to Cordial to create targeted campaigns, automate triggered messages, and even localize content into your customers' preferred language. 
Through the latest mParticle integration with Cordial, marketers can deliver greater impact with customers in just a few clicks, resulting in boosted engagement rates, ROI, and an enhanced customer experience.
Benefits for marketers
With this integration in place, marketers can easily benefit from the following sampling of use cases:
Build dynamic targeted audiences.
Increase message relevancy through dynamically updated audiences which reflect each individual's most recent interactions with your brand.
Stitch together online and offline profile data.
Create unique message content for each contact using everything known about them to deliver 1:1 personalization at scale. 
Cross-channel message orchestration.
Craft messaging to reach individuals across multiple channels—for example, automatically sending an SMS after no engagement in email or message each person based on their engagement frequency within each channel. 
Multiple real-time data inputs to trigger messages.
Activate triggered messages based on multiple data points—for example, using real-time device and location data to deliver mobile offers to an in-store shopper.
How it works
mParticle's Customer Data Platform (CDP) allows marketers to build targeted audiences:
Unify data across the entire customer journey by collecting Events and User Attributes from Web, Mobile, OTT, and IoT Devices with our SDKs, APIs, and partner Feeds. 
Easily build a unified view of all user identities, behavior data, and various user attributes. 
Group customers based on your criteria to build audiences for the purpose of impactful user engagement and monetization scenarios.
Send user attributes and audience data to Cordial with a pre-built integration that takes a few clicks to set up.
Have granular control over consolidation or segmentation of customer data being sent to Cordial in compliance with GDPR and CCPA.
Cordial's messaging platform allows marketers to increase user engagement by providing a simple way to:
Create dynamic segments of contacts for messaging, searching contacts and filtering analytics reports.
Create batch messages for one-time promotional distribution as well as automated messages for trigger-based sending.
Personalize content for each contact that makes it possible to display products recently purchased or browsed, items currently in a cart, different languages, or even external content, such as blog articles or Instagram feeds.
Build custom dashboards filled with charts, track audience populations over time, or download message performance reports.
Set up in mParticle
Enable the Cordial integration in the mParticle Directory.
Name your configuration and enter your Cordial credentials. Create a new API key for this integration. 
Create an audience within mParticle based on business-specific criteria. Refer to our audience setup documentation. As an example, you can create an audience of users that have installed your app in the past 10 days and have clicked on a promotion, but have not made a purchase.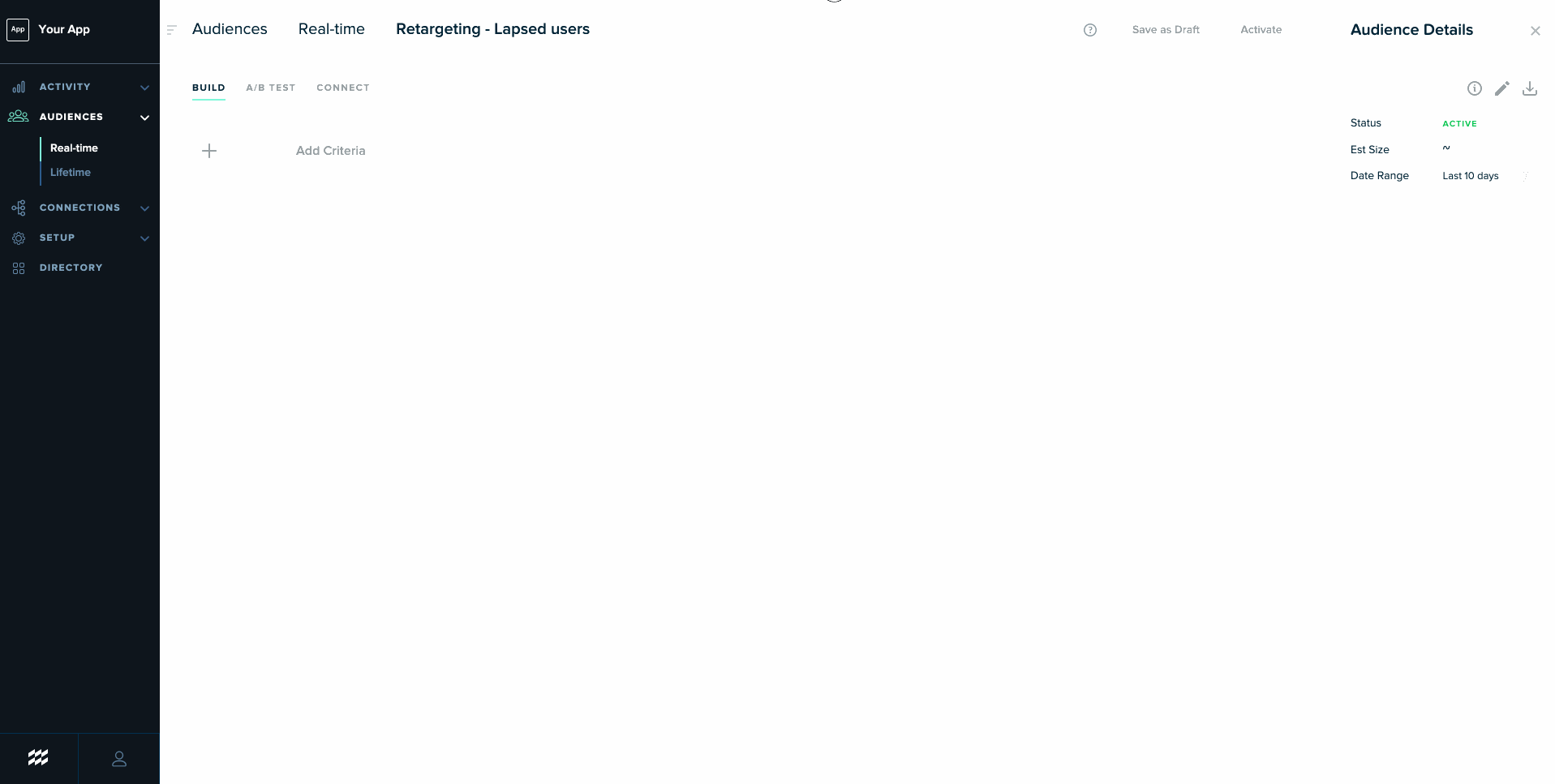 4. Connect to your Cordial output to send membership updates via Cordial.
Cordial actions
Once your data is connected, you can make use of the core capabilities and functionality within the Cordial platform, like creating curated messages or retargeting an audience segment. To create curated messages for an audience, segment users within mParticle on customer behavior—such as sign-ups from an email list, clicks, abandon cart events, or user attributes such as age or gender—then, configure a message in Cordial to be sent to those users to engage them. To retarget an audience segment for users that have not engaged with a campaign after a specified period of time, use mParticle to create the segments and with Cordial re-engage with users on a periodic basis as necessary.
Try it!
The new Cordial integration is now available for all mParticle customers. If you'd like to learn more about how you can use Cordial and mParticle to personalize promotional, triggered, transactional, and lifecycle messages across your engagement channels, get in touch!
Learn more about mParticle's Pathways partner program here.
Get started today
Try out mParticle and see how to integrate and orchestrate customer data the right way for your business.
Explore demo
Sign up
Contact us
Startups can now receive up to one year of complimentary access to mParticle. Receive access