How Airbnb scaled their growth strategy while increasing developer efficiency
Learn how Airbnb uses mParticle as the foundation infrastructure of their data pipeline, enabling them to evolve their growth stack and stay agile during tumultuous market conditions.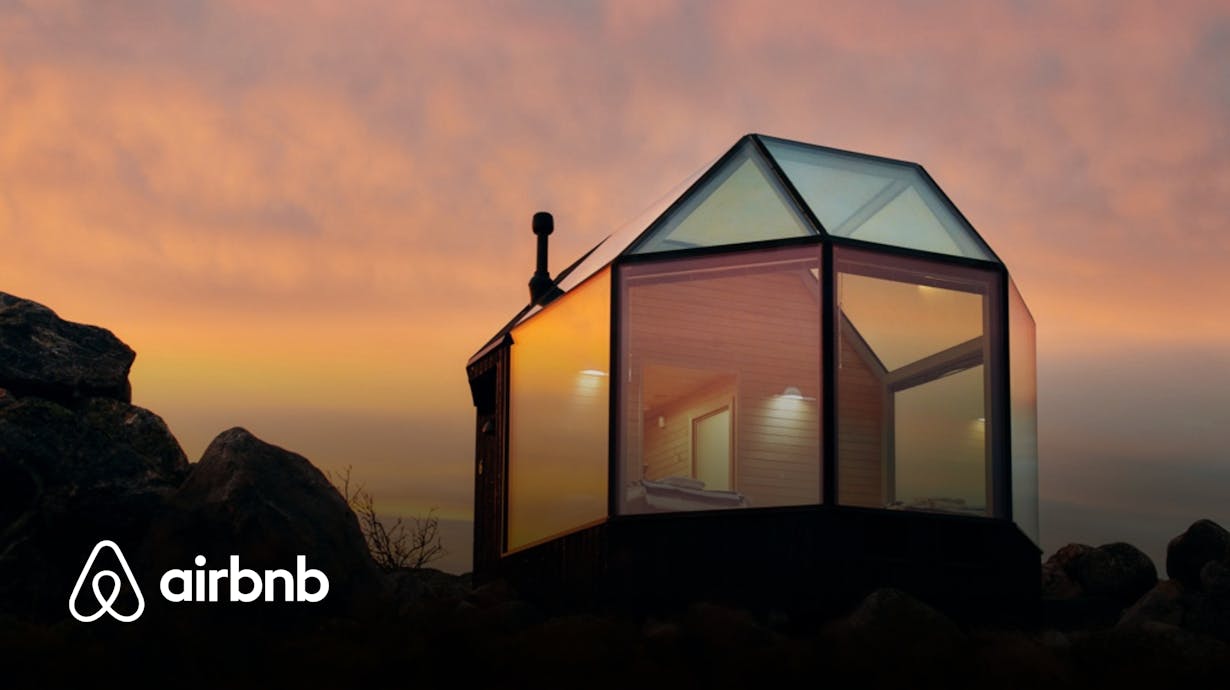 How do you make strangers feel comfortable enough to stay in each other's homes?
In 2008, that was the question that Airbnb's founders asked themselves. The answer was trust; instilling trust started with creating user profiles (guest profiles and host profiles) and making transparent, safe, and secure travel bookings.
From the beginning, Airbnb's mission was to enable people to "travel like a human," allowing them to experience the local neighborhoods and communities in destination cities. Airbnb has humanized travel and created greater connection and community through better stays.
As Airbnb's platform grew, the company continued to focus on delivering top-notch host and guest bookings to an expanding user base while looking to improve personalized interactions and provide greater convenience. To help achieve this goal, Airbnb needed a better understanding of their customer base and their preferences through their customer data.
mParticle's data platform was built to help companies "make business personal" by leveraging their first-party data to create personalized customer experiences across all touchpoints, with a dedication to developing deep partnerships with companies' teams to ensure sustainable success.
The two companies' teams shared a common belief that better, technology-enabled customer engagements combined with a more human approach were critical components of their respective innovation stacks. By mid-2015, Airbnb was experiencing escape velocity and began working with mParticle, seeking to harness the value of its customer data into a powerful engine for sustainable growth.
The end of the beginning
Each customer who books a trip via Airbnb has an important story to tell about how and why they travel. By 2015, Airbnb was seeing a rapid increase in customer engagement on their native mobile app, and ensuring the best possible mobile experience became a core part of its overall customer experience strategy. To meet the emerging needs of the business, Airbnb began exploring possible tools or partners.
Meeting the collective data consumption needs across the various teams meant the engineering team would have to commit hundreds if not thousands of staff-hours throughout the year to maintain the disparate set of vendors properly. How does a company solve for these problems?
Building the stack
When the teams began working together, Airbnb tapped mParticle to democratize access to its customer data to support marketing and growth initiatives. The teams began by creating a data design process that would align data capture to business needs to manage customer data holistically while ensuring consistency and extensibility. 
Once implemented, the Airbnb team was able to consolidate customer data collection efforts to a single implementation. The Airbnb team freed up valuable engineering resources to focus on customer experience innovation while the Growth team was able to rapidly expand the number of partners they worked with via an easy to use interface. One of the most exciting aspects of the partnership in the early days came from the privacy and compliance team. They quickly became fans of mParticle when they saw how easy it was for teams to implement governance over data flows at a granular level and began to share the applications of this solution within various teams at Airbnb.
Armed with new agility and privacy controls, one of the first of several integrations that the Growth Team added was a new mobile attribution vendor via an S2S integration. With the ability to connect data via mParticle's integration, Airbnb was able to gain a better understanding of how and why new users were installing their app.
We use mParticle to forward installs as well as all in-app events to our attribution vendor so that we can do app install attribution without having the SDK implemented in the Airbnb app. Those insights are heavily used at Airbnb by multiple different teams.
Product Manager, Growth at Airbnb
In addition to adding new tools, Airbnb's Growth team was able to customize which events they were forwarding to each vendor easily. This capability proved to be especially valuable for their integrations with their social media advertiser and analytics provider–two of Airbnb's most essential tools where transformation at the edge was required to ensure consistency across integrations. The team used their analytics provider to understand all mobile engagement and gain a complete understanding of customer engagement. Their social media advertiser use case, however, was more idiosyncratic.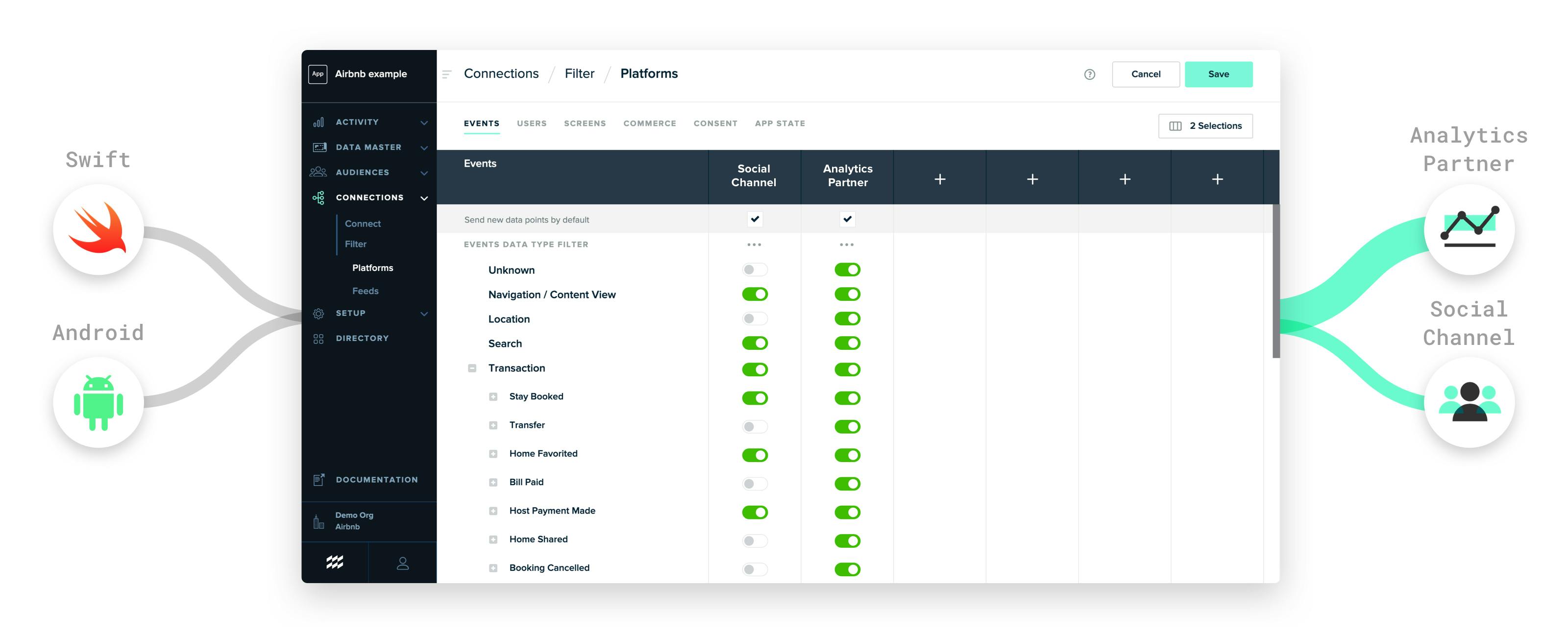 Airbnb's social media advertiser is a key partner for performance marketing but was limited to guest acquisition rather than Host or Experiences marketing. As such, the Growth team needed an easy way to configure a limited set of events required for guest acquisition campaigns to be integrated into the social media's advertising platform; while limiting which data was sent along with them to protect user privacy. Using mParticle's Data Filters UI, the marketing team could easily and precisely control which events were forwarded to the analytics provider and which were forwarded to the social media advertising platform, saving countless developer hours and protecting its users' privacy.
Streamline your website integrations
Learn which third-party integrations you could replace with a single SDK by adopting mParticle.
Accelerating speed to market
As Airbnb has continued along its incredible journey, the team has relied on mParticle to accelerate new initiatives. For example, when expanding their social media advertising program, Airbnb leveraged mParticle to control its data flows better. 
When Airbnb initially began sending app and web events to their social media advertiser via mParticle, it started with a subset of data required to support just its Guest acquisition strategy. Although Airbnb was also capturing data for Hosts and within its newly launched Experiences, it needed an easy way to regulate and filter data from these sources since they did not want this data being sent externally.
As Experiences began to grow, the Growth team decided to expand their strategy to start running acquisition campaigns for Experiences users on the social media platform. With mParticle, rather than relying on Engineers to instrument new events and push a new release, the Growth team was able to forward these events in minutes by merely updating its filter configuration in the mParticle UI. 
Airbnb also planned to accelerate its growth by testing out the social media advertiser's Travel Ads. One challenge with Travel Ads is that the platform requires a distinct Event structure. Without mParticle being able to offer edge transformations out of the box, this rigidity could have created a significant bottleneck for Airbnb's team, as this would have required even more instrumentation. 
In addition to its primary ad channels, Airbnb began to use mParticle as a central data layer to onboard and test new vendors more quickly. The team started a twelve-week trial of a new display retargeting provider and began forwarding specified app events to the platform in minutes, rather than weeks or months. When the pilot ended, the Marketing team deactivated the integration in the mParticle interface– with no code updates and no data leakage.
Results
7x
Increase in Experiences bookings
Year-over-year in 2018
4+
Downstream vendors
Activated without developer support
1000s
Developer hours
Saved in implementing and maintaining vendor integrations
Great partnerships survive crisis
The entire travel and hospitality industry was heavily impacted as all travel ground to a halt due to COVID-19 in February 2020. To help weather this storm being faced by all companies, Airbnb knew that they would have to make some challenging choices. That meant taking a more agile, efficient approach, focusing on its core business, and making several decisions based on first principles.
Discretionary marketing spend was being scrutinized including those utilizing popular social media platforms. In total, pausing data flows to its largest marketing partner took less than two minutes. No rip and replace, no emergency releases amidst the chaos—just simple and easy execution. By comparison, the same task on its web-based tag manager took hours.
From a data sharing perspective, if we aren't using a vendor for marketing, why would we share data with that vendor? We paused marketing with our social media advertiser, which was a pretty big switch. We use a tag manager for the web integration, and I had to go into the tag manager to find and pause all the social media platform pixels. This took hours. In mParticle, for the necessary integrations, all I had to do was pause the connection, which took a minute.
Product Manager, Growth at Airbnb
Conclusion
With an impressive 91% of traffic generated organically, the team felt confident that they could pause paid marketing efforts and still retain their core engagement. In total, Airbnb has saved $800 million this year by pausing marketing spend, helping them turn a net profit in Q3 2020.
Interested in learning more about mParticle and how we help leading brands like Airbnb simplify their customer data infrastructure? Try out our platform demo here.
Get started today
Try out mParticle and see how to integrate and orchestrate customer data the right way for your business.
Sign up
Contact us
Startups can now receive up to one year of complimentary access to mParticle. Learn more